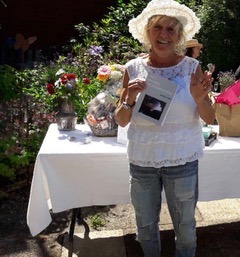 "Grandma's devis" is a follow-up of my debut novel "Shit, Pommes, Potato Gratin!".
We will continue to keep up with Fine, Olivia and Georgios on their adventures around the world.
Incredible but true, the idea of ​​a continuation came from my readers who refused to know what happened in those last days in Eressos.
And its consequences.
Was it a complete idea or did it grow during the writing process?
As usual, I always have the first and last chapter ready in my head when I start a new story.
What happens in between is always an exciting surprise.
What makes you want to write?
what inspires you?
I write entirely of desire.
I get inspiration from what I experience, by people I meet and by the characters that grow up gradually in the story.
Are you writing something new now?
Yes, I am well on my way with another feel good novel.
But now in a completely different environment than in my previous novels.
Do you have tips or advice for others who want to write a book?
Dare!
Start with a writing course.
If the desire is in the writing, take the chance!
Why should you read your book?
To spend some time with friendly people, staying in beautiful environments and maybe finding both laughter and crying.
What do you do when you are not writing?
Sometimes I put great energy into launching my books.
Marketing, signing, planning.
Sometimes I enjoy life while I watch for future stories.
Which would you prefer to read your book?
My wish is that as many as possible want to follow my story.